Today's continuously advancing digital ecosystem is focused on digitizing all operations and maintaining long-term client relationships by businesses. Generating the power of imagination and innovation is on priority, and keeping the same motto on their bucket list - IDEATORS was born.
As an enterprise, IDEATORS has achieved so much that an established business dreams of and has reached marvelous heights of success in digital business transformation.
IDEATORS began in 2019 in Florida, United States of America as a business transformation service provider. The company holds other offices in Pakistan and Portugal and ensures that its experience, innovations, and abilities can take a business to its peak. IDEATORS facilitate 360-degree digital solutions for startups, small, and large-level enterprises by meeting their digital design, development, marketing, and security-related needs.
Top-Notch Web Services Offered by IDEATORS
IDEATORS is a creative agency that aims to digitize its customers' ideas and turn them into a reality. From fantastic custom software development, web & mobile development, design, digital marketing, data, and security services to augmenting professional staff & tech resources and working on infrastructure, technology, and frameworks, IDEATORS does it all that boosts the revenues and goodwill of a business. It also relies on AR/VR, AI & Machine Learning, Blockchain, IoT, Metaverse, and Robot Process Automation Technologies to help promote its client companies.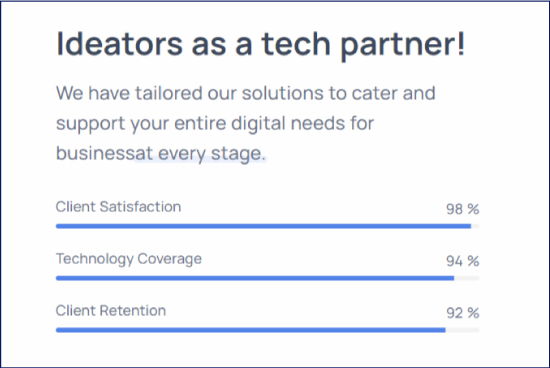 A Perfect Destination for Custom Software Development
Quoted by GoodFirms as the top software development company in Florida, IDEATORS creates various unique software applications that help companies resolve specific challenges. It covers an entire process of designing, developing, deploying, and maintaining software for a particular group of users and a specific set of functions or organizations. The motive remains to give the tech companies flexibility, compatibility, and stability to scale them up and down by using software products tailored to their needs.
Custom software provides personalized experiences to the users and helps improve their productivity. Bespoke enterprise software, CRM, ERP, development, gaming, and testing software products are some of the most sought-after software products offered by the company.
IDEATORS is the Supreme IT Staff Augmentation Service Provider

IT staff augmentation is imperative for any organization looking to stay agile in today's rapidly changing environment. Technological advances and globalization have enabled remote teams to quickly work together on different projects. IT staff augmentation at IDEATORS benefits IT organizations by acquiring qualified and customized employees without needing to engage with the staff and eliminating long hours of training and interviews. Ultimate project outsourcing allows hiring experienced developers and building dedicated teams. Thus, this saves a lot of time and money.
The positive client testimonial below proves why IDEATORS has always been the best choice for its clients and is valuable for its services.
GoodFirms Research Methodology
GoodFirms is a leading platform that directs global tech businesses to find the best partner of their choice. It is a top-rated review and rating firm that collects reviews and testimonials for hundreds of companies registered at the portal, allowing them to make the finest decisions for their business.
Conclusion
IDEATORS are smart enough to supply tested, reliable, quality products to tech companies. Today, they focus on delivering excellent custom software solutions and augmenting teams for their clients. The company displays its never-compromising attitude when serving its customers and always strives to be the best in every product and service supply sector.
About GoodFirms
Washington, D.C. based GoodFirms is a reputed B2B research and reviews firm that aligns its efforts in finding web development and web design service agencies delivering unparalleled services to its clients. GoodFirms' extensive research process ranks the companies, boosts their online reputation, and helps service seekers pick the right technology partner that meets their business needs.
About the Author
Prepared by Anna Stark, a Content Writer at GoodFirms, who bridges the gap between service seekers and service providers. Anna's dominant role lingers to form every company's achievement and critical attributes into words. She strongly believes in the charm of words and equips new approaches that work, always with concepts.